Reminiscences of a Meeting of Mother Teresa and Sri Chinmoy — 1 October 1994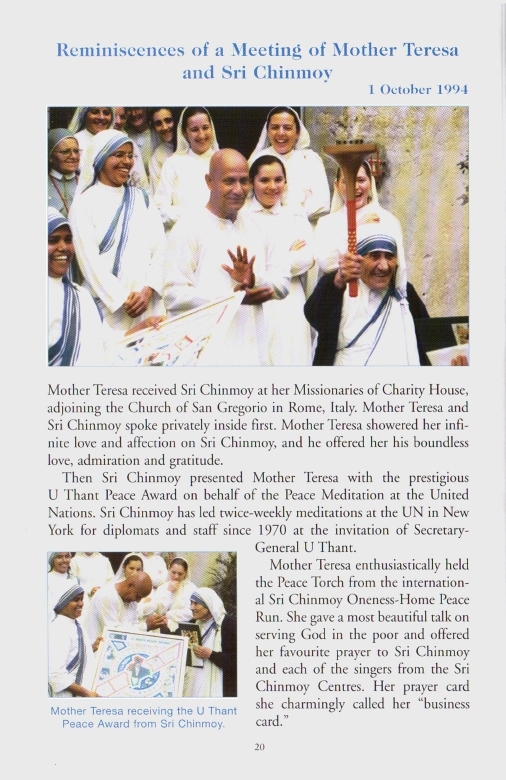 Mother Teresa received Sri Chinmoy at her Missionaries of Charity House, adjoining the Church of San Gregorio in Rome, Italy. Mother Teresa and Sri Chinmoy spoke privately inside first. Mother Teresa showered her infinite love and affection on Sri Chinmoy, and he offered her his boundless love, admiration and gratitude.
Then Sri Chinmoy presented Mother Teresa with the prestigious U Thant Peace Award on behalf of the Peace Meditation at the United Nations. Sri Chinmoy has led twice-weekly meditations at the UN in New York for diplomats and staff since 1970 at the invitation of Secretary-General U Thant.
Mother Teresa enthusiastically held the Peace Torch from the international Sri Chinmoy Oneness-Home Peace Run. She gave a most beautiful talk on serving God in the poor and offered her favourite prayer to Sri Chinmoy and each of the singers from the Sri Chinmoy Centres. Her prayer card she charmingly called her "business card."
From:Sri Chinmoy,Mother Teresa: Humanity's Flower-Heart, Divinity's Fragrance-Soul, part 2, Agni Press, 1997
Sourced from https://srichinmoylibrary.com/mt_2