8 October 1995, Sportoyni Hala Sparta Prague, Czech Republic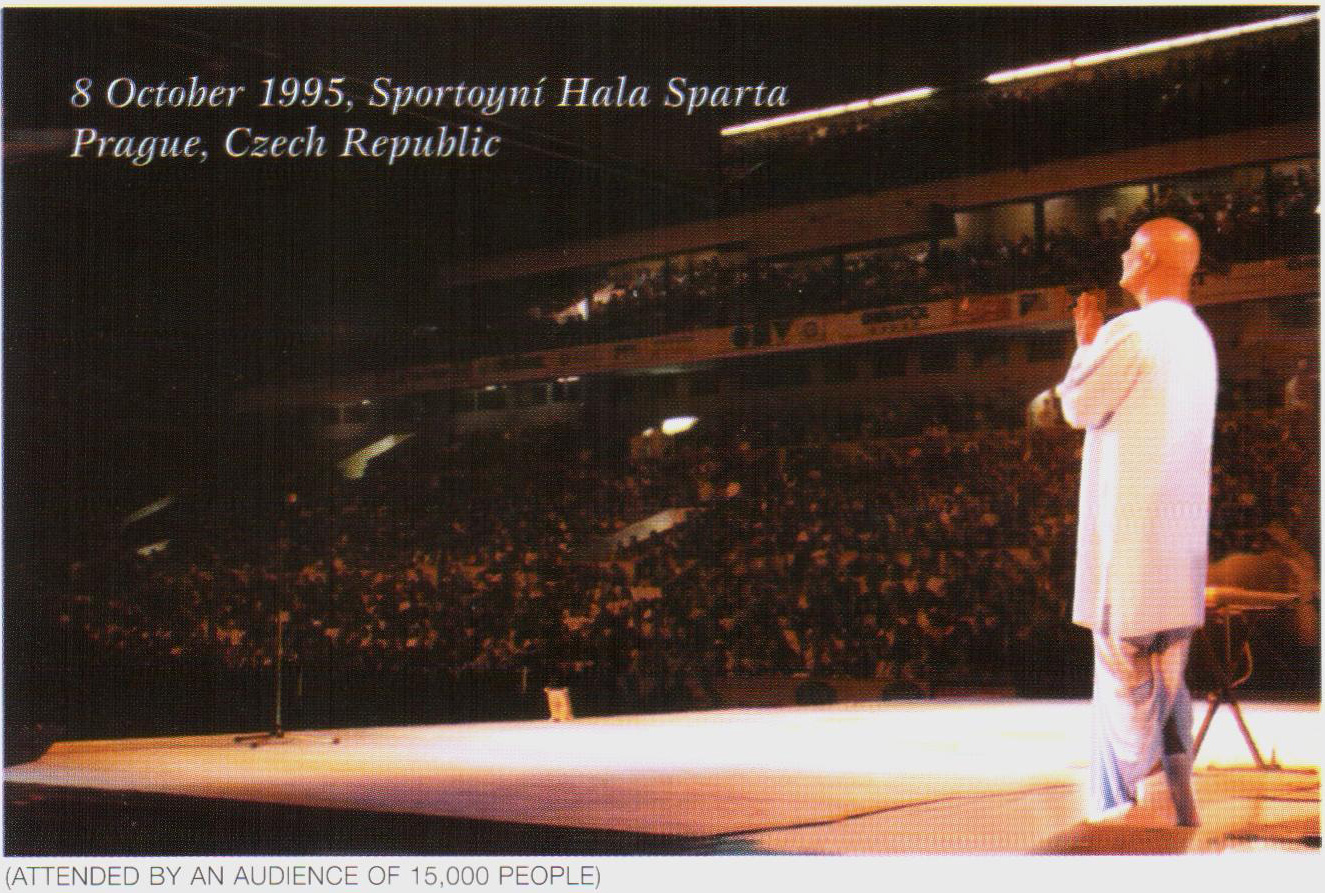 Excerpts from a letter sent on behalf of His Excellency Mr. Vaclav Havel, President of the Czech Republic, by Mr. Pavel Seifert, Director, Foreign Policy Department, on 25 April 1995:
The President is very sensitive to the importance of this year for world peace, marking as it does the fiftieth anniversary of both the United Nations and the end of the Second World War.
President Havel is pleased that one of Sri Chinmoy's Peace Concerts is to be celebrated in Prague on October 8th this year. He considers it a great honour for the city…
President Havel sends his best wishes for a peaceful future and hopes that the Concerts for Peace will have a maximum impact in spreading goodwill and understanding throughout the world.
Peace Concert dedication by Sri Chinmoy:
O United Nations, I bow to you, I bow to you, I bow to you.
Today's Peace Concert I am prayerfully offering to the all-illumining soul of the United Nations, to the all-aspiring heart of the United Nations and to the all-serving life of the United Nations.
Sri Chinmoy's remarks following the concert:
I wish to offer my life's prayerful love and my heart's soulful gratitude to the soul, heart and life of the Czech Republic. I also wish to offer gratitude from the inmost recesses of my heart to each and every individual present here who has so kindly and compassionately listened to my music. With my prayerful music I try to offer my love and peace to all those here and elsewhere who are hungry for peace, genuine peace.
Mankind has everything else save and except peace. Let us dive deep within to discover the most precious divine reality within, and then let us bring to the fore this divine reality, which is peace. Let us pray and pray, and meditate and meditate, so that we can bring about world peace. And let us pray and meditate to inundate this world with peace: shanti, shanti, shanti.
Once more, to each peace-seeker, peace-dreamer and peace-lover present here I am offering my gratitude-heart. In this connection I wish to offer my heart's deepest gratitude to two Olympic champions, two Czech immortals, Emil Zatopek and Robert Zmelik, whose kind and compassionate presence I deeply appreciate and value.
My seeker-friends, my peace-loving brothers and sisters, to you I offer my prayerful, soulful and self-giving heart.